Some BOOKS to help you with the Law
---
We list here some books that might be helpful in understanding your Legal problems. For our Canadian Readers we sugest Chapters.ca.

May we suggest:
BC Marriage Separation & Divorce ....
For our American viewers we sugest Barnes and Noble.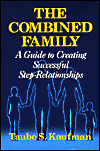 THE COMBINED FAMILY
A comprehensive guide to meeting the challenges a combined family can bring. From telling the kids you're getting remarried and helping them adjust to new family members and a new household to coping with former spouses ...
---
OTHER INTERESTING BOOKS
---
Barnes and Noble Links:
---

Links:
---
---
---
---